CATERING
Call our office for more information 410-643-7600
Appetizers Lite Fare
Cheese & Crackers
Veggies & Dip
Peeled Shrimp with sauce
Fruit Tray
Dessert Tray
Sodas/Water
- OR -
Cold Food Platters
6" Cold Cut Sub - or - Ham & Turkey Sandwich
2 pcs. Fried Chicken
Cheese & Crackers
Potato Chips
Brownie or Cookies
Sodas/Water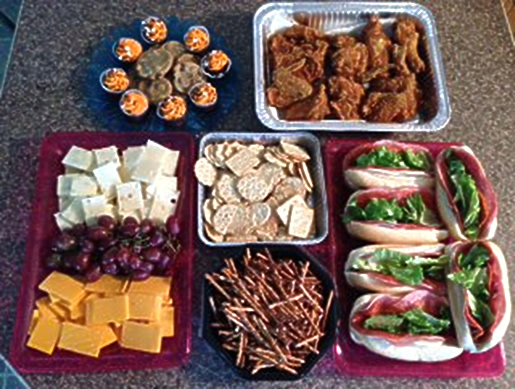 CATERING FOR A PARTY OF 8 OR MORE INCLUDES, WATER, SODA, CHIPS, 2PCS OF CHICKEN PER PERSON, A 6" ITAILIAN SUB, CHEESE AND CRACKERS, COOKIES, BROWNIES.
*All selections include water and soda.
$23.00 per person.
Add a Continental Breakfast for only $7.00 per person.
Breakfast to include an assortment of pastries, and coffee).
Custom menus and Crab feast are available at your request.
Ask for pricing when you book your reservation.